Minimalist
Personalized
Your Way
iman Pro is a minimalist Solah notification app with advanced features and endless style customizations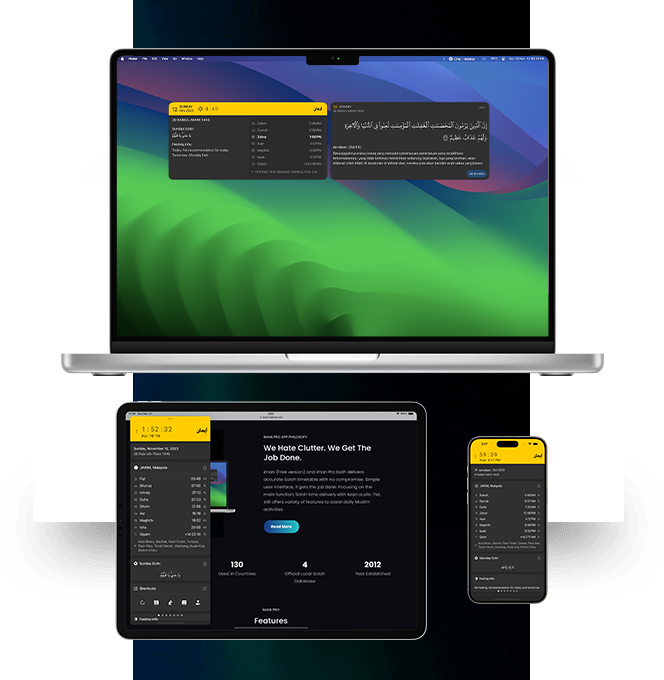 MInimalist
We hate clutter. We get the job done.
iman (Free version) and iman Pro both delivers accurate Solah timetable. Simple user interface, and it gets the job done. Focusing on the main function, Solah notification delivery with Azan audio.
In simplicity, iman Pro still offers a variety of powerful features and customizations.
#1
Reference Category: Malaysia AppStore
4
Official Local Solah Database
iman pro
Features
Simple And Minimalist
Our user interface is simple. No unessasary decorations. Information ready at glance and just simply practical.
Multiplatform
iman Pro natively supports iPhone, iPad and Apple Watch.
It also works on MacOS with Apple Silicon with compatibility mode.
Infinite Color Combinations
Enjoy infinite theme color combinations that suit your style. Color theme will seamlessly synced with Home Widgets.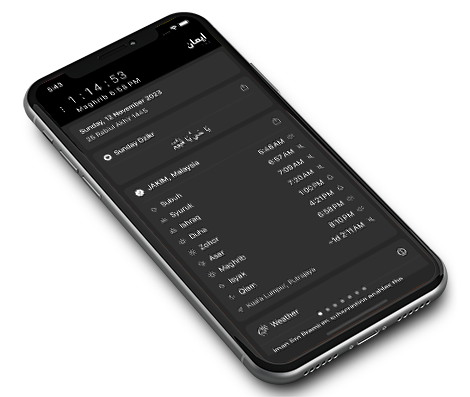 One Time Purchase
Own iman Pro with one time purchase and share it with your family via Family Sharing.
However, you can still enjoy a free version of iman app that works just fine for those who only needs Solah notification.
Check out the differences between Pro and free version here
Solah & Weather Correlation
Solah timetable now enhanced with weather info like never before. Get it by subscribing iman Pro Premium!
On Your Wrist
iman Pro comes with AppleWatch companion app.
It supports Watch Complications, Qibla Direction, Tasbih, Al-Mathurat and more.
iman pro premium subsctiprion
We offer premium subscriptions for you who value sustainability of a quality product